Mac DC Power Jack Repair Miami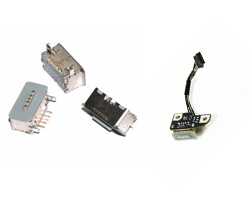 We are committed to the satisfaction of our customers since 2011 and we are located in Miami, FLorida . Supplying Mac DC Power Jacks, connectors and sockets at the most reasonable prices in Miami and the internet is what has kept us around, apple would have you replace your whole system board at anywhere from $400-$800 instead of replacing a broken DC Jack, if you have a loose connection where you plug in the power on your MacBook or it works intermittently, you could have a bad dc jack.
Symptoms of a damage Mac DC Power Jack:
Move the MacBook power Plug and loses connection
MacBook Broken or cracked dc power jack
MacBook won't charge but worked on battery
MacBook battery won't charge
MacBook only works when you hold the DC power plug in a specific way
MacBook DC jack is broken or loose
MacBook gets no power at all
MacBook DC jack may feel loose
Computer repair miami technicians can do this kind of repair on a daily basis for aLL Apple MacBook this could be for individual customers or other computer repair shops all over the Miami area, Mac dc jack repair miami has every DC jack for every MacBook in stock and our technicans have years of electronic training and experience unlike most Apple repair centers, our technicans also have invested in only the best soldering equipment to safely remove the old Mac DC jack from the MacBook and to replace it with a new DC power jack. We provides power jack replacement service, MacBook DC Power Jack is also known as a mac dc connector, inlet, input, port, receptacle, socket where you plug your ac power adapter charger in, we are a mobile business providing Miami computer repair services and we've been around for years now providing mobile computer repair services in Miami.
The Miami Computer Shop provides fast economical Mac DC Power Jack Repair service and repairing the DC power jack in the MacBook, we are the best prices in miami and you can trust us, we can repair your Mac DC Power Jack fast and economically, power problems in MacBook are usually because of faulty DC jacks, damaged power connector pins, or damaged power sockets, these may keep your MacBook from powering up or recharging properly, MacBook power connectors may become loose or broken when power cables are inadvertently pulled or tugged at repeatedly, this places train on your MacBook's DC power socket and eventually causes it damage, we specialize in repair of all broken DC jacks and MacBook power connectors.
The MacBook DC Power Jack can break very easily on all MacBook, the very poor design by manufactures and the DC Jack is not designed to take any type of abuse at all, that's why the longer you operate your laptop this way, you risk damaging the MacBook further, and repair will be much higher.