Mac Glass Screen Repair Miami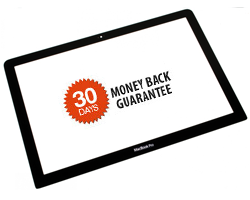 We replace a cracked or damaged Glass LCD with a brand new glass screen, it used to be that if your screen cracked on your laptop, you'd just replace the LCD and be done with it. That unfortunately is no longer the case. With the introduction of the Unibody Macbook and Macbook pro models, Apple changed the design of the display assembly, Computer Repair Miami are experts in Mac Glass screen repair, we have been doing high volume glass screen repair locally since 2011, we were one of the first to start offering glass replacements when Apple came out with their unibody design, and continue to stay on the bleeding edge of mac glass screen repair and we keep almost every glass screen needed in stock for the quickest turnaround possible in Miami, we will have your computer repaired and back to you within 48 hours if the part is stocked.
Our work and the parts we use are guaranteed for 30 days. We have spent years finding the best suppliers in the industry, and years perfecting our procedures to help offer the best screen repair service possible, we offers full apple repair services on all MacBook models and whether its a cracked macbook screen, cracked macbook lcd, cracked macbook glass, MacBook keyboard, MacBook hard drive, Unibody Macbook, or MacBook LCD, we can get your MacBook up and running, fast, our Computer Repair Miami shop stocks many parts for the MacBook, both white and black; If we don't have it in stock, it can be ordered quickly.
Remember if the glass cover of your mac or macbook pro is cracked or broken but the screen itself is undamaged them we'll carefully remove your cracked macbook glass screen and replace it with a brand new glass cover, within an 24 hour, your macbook will be good as new.
Symptoms for Replacing Mac Glass Screen Cover :
Scratches on the Mac Glass Screen Cover
Lines on the Glass Screen Cover
Mac Cracked Screen Cover
Broken Screen Cover
Why you Should choose Us?
We Use Original Parts
Best Price unbeatable in Miami
Best Professional Quality Service
If your macbook needs to be repaired call us today and have your mac repaired the same day in most cases, replace a cracked or damaged bezel with a new one, a new glass bezel can restore the aesthetics & functionality to your Mac, the Computer Repair Miami only uses the highest quality OEM Apple replacement parts to insure an effective professional MacBook Pro repair, most Glass Bezel repairs completed in 24hrs.