Mac CPU Fan Repair Miami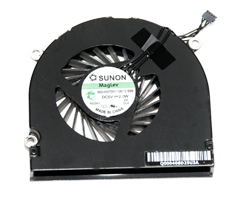 As processors, graphics cards, RAM and other components in computers have increased in speed and power consumption, the amount of heat produced by these components as a side effect of normal operation has also increased, these components need to be kept within a specified temperature range to prevent overheating, instability, malfunction and damage leading to a shortened component lifespan, while in earlier personal computers it was possible to cool most components using natural convection passive cooling, many modern components require more effective active cooling to cool these components, fans are used to move heated air away from the components and draw cooler air over them. Fans attached to components are usually used in combination with a heat sink to increase the area of heated surface in contact with the air, thereby improving the efficiency of cooling.
Mac CPU Fan Failure Symptoms :
MacBook is hot to touch
Lots of heat being blown out of the side of MacBook
MacBook CPU fan noisy
MacBook Restarts without warning
MacBook shuts down and refuses to restart until cool
Mac CPU Fan Repair Miami services both home and business for all of your Apple service needs, it's easy to set up an appointment or just call for an on-site Apple repair service, you can also choose to drop it off at our computer repair shop if that's more convenient, Computer repair miami shop looks forward to hearing about all of your computer repair problems, questions, comments and concerns & our success is defined only by our customers satisfaction in another job well done, our specialist team of IT support technicians have the expertise to quickly solve all PC and Mac repair issues.
Why you can rely on Computer Repair Miami :
Over 10 years' experience in all aspects of Apple computer's
Dedicated service for small businesses and individuals in Miami, FL
Reliable emergency call out service across the Miami-Dade County
Expert advice available on the best buys and latest Apple systems
Macbook professional and personal service
Competitive on price in Miami, FL
If you're looking for reliable Apple technical support services, Miami computer experts are here to help, computer repair Miami has years of experience working with all MacBook Models, no matter what IT dilemma is, that you can count on us to provide you with an accurate diagnosis of your problem and solutions to get you back on track, mac cpu fan repair Miami offers 7 day computer tech support from 9:am to 5:pm, 365 days a year, so no matter what day you need help with your computer, computer repair miami support is ready to help you at any day of the week.