Laptop Motherboard Repair Miami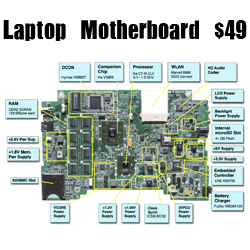 Portable personal computer is suitable for mobile use, a laptop has most of the same components as a desktop computer, most laptop are powered by mains electricity via an AC adapter, and can be used away from an outlet using a rechargeable battery,laptops are also sometimes called notebook computers or notebooks and other terms, such as ultra books or netbooks, refer to specific types of laptop or notebook, most of the modern day laptop computers also have a webcam and a mic microphone pre-installed, Netbooks are laptops that are inexpensive, economical, energy efficient and especially suited for wireless communication and Internet access and the basic components of laptops function similarly to their desktop counterparts, but are miniaturized, adapted to mobile use, the design bounds on power, size, and cooling of laptops limit the maximum performance of laptop parts compared to that of desktop components.
Most higher end laptops are sufficiently powerful for high resolution movie playback, some 3D gaming and video editing and encoding and laptop processors can be disadvantaged when dealing with higher-end database, maths, engineering, financial software, virtualization. Also, the top of the line mobile graphics processors GPUs are significantly behind the top of the line desktop GPUs to a greater degree than the processors, which limits the utility of laptops for high end 3D gaming and scientific visualization applications.
Common Sings of a Bad Laptop Motherboard :
Laptop Power on but shuts down immediately
Power jack is broken or loose
Motherboard beep codes to indicate a video adapter failure
Screen pixelation, your laptop graphics card is probably going bad.
Laptop – No Power
Power on Intermittently
Not charging the Battery
System randomly shuts down
Power on, but no video
Post video on external monitor but no internal screen
Scrambled video display on the monitor
White color displayed on the screen
Laptop keep restarting
System crashes when install video card driver
System POST ok but the LCD screen is very dim
Screen displays incorrect colors
LaptopRepair.com is about getting you back up to full speed with a properly functioning laptop, maybe your laptop turns on and it has no display, it may be due to the graphics chip failure, as part of our commitment to providing the highest quality of service, many of our repairs are provided at flat rates and motherboard repairs take a little longer, as we realise the importance of getting it right, laptop motherboards are extremely complex pieces of electronics and need to be treated as such.
Laptop Repair Services we Offer :
DC Jack Repair
Laptop Screen Replacement
Laptop OS Reinstall
Laptop Liquid Spill Cleanup
Laptop Motherboard Repair
LCD/LED Replacement
Laptop Keyboard & Touchpad Replacement
Laptop Virus & Spyware Removal
Hard Drive Replacement
Data Recovery
Data Transfer
Memory Upgrade
Laptop System Tune-up
Video Card Repair
Internal Cleaning Maintenance
Laptop Password Removal
Laptop Overheating
We guarantee 100% customer satisfaction and give a 30-days warranty on all parts and labor, we believe doing business with Miami Computer Repair Site should always be affordable and easy.